A feature-rich, revolutionary phone system, offering a wide range of functionality
One system, all features, no limits
Jomar offers the Vodia PBX phone system, a feature-rich, revolutionary phone system, which offers a wide range of requirements in the business communication space. Designed to  operate on a public IP address, the Vodia phone system focuses on robustness and resilience specifically built for SME business communications solutions.
Vodia empowers businesses worldwide by providing the latest cloud and on-premise IP PBX technology.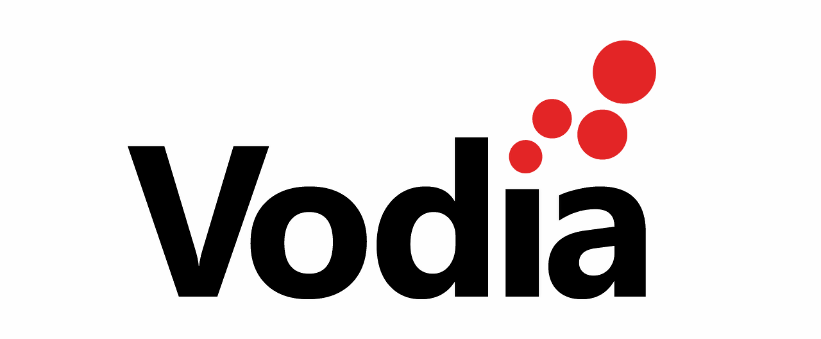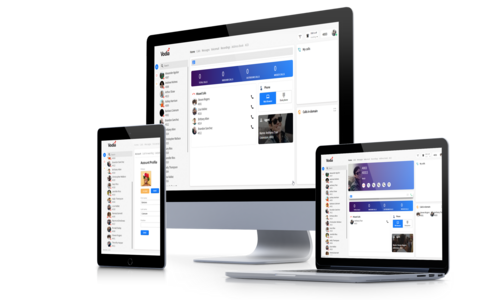 Vodia Phone System Features
Softphone—Mobile App and Web Browser
All major operating systems today support VoIP in one form or another. The Vodia PBX takes advantage of that and turns mobile phones, laptops, tablets and PCs into your phone extension that can be used for your employees everyday communication needs in the office, on the road, or remotely.
Softphone
The Vodia softphones can be used in parallel to VoIP devices such as desktop phones, mobile devices and handsets, giving users more choice where to pick up calls than ever.
The Vodia softphones can be installed on various devices without additional licensing. This makes it easy to roll out the softphone functionality in organizations, even if employees use their own devices. Data such as call records, text messages and address book entries are not stored on the client device. If an employee should leave the company, the data stays on the PBX.
Available for Android and iOS.
From the device softphone you can:
Receive inbound calls to your extension and make outbound calls from your extension through your mobile devices.
Put calls on hold
Transfer calls
Text through the Android App
Set and update do not disturb status
Access the local address book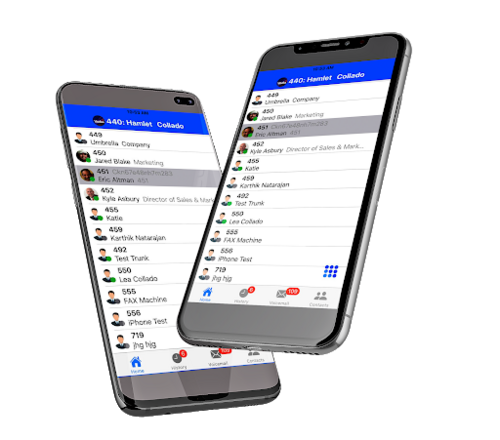 Web Browser
Users can use the PBX also through a standard web browser. This avoids the need to install an app. Available for Windows and Mac iOS.
Users can use the browser web client not only to make and receive calls and text like in the mobile app, they can also use this web client to change settings, schedule conference calls or set the web buttons of their phones.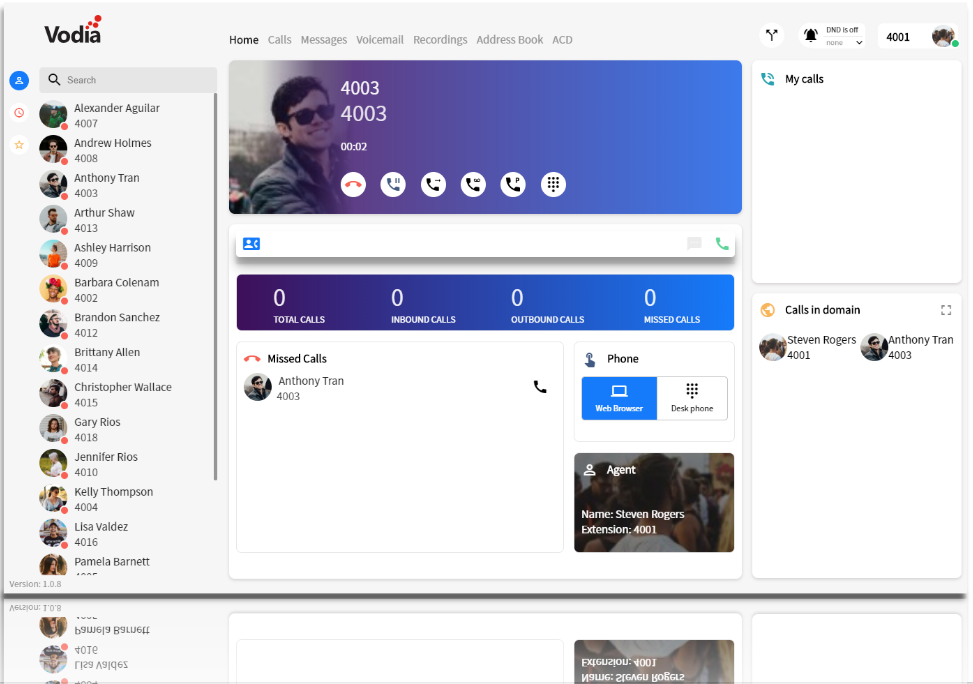 Microsoft Teams Integration
Microsoft Teams® offers an unprecedented feature set for office communication. This integration will allow for Vodia extensions and MS Teams extensions to seamlessly communicate with each other.
Additionally, MS Teams members can belong to hunt groups or agent groups, along with receiving and making outbound calls all from the Vodia phone system. Employees who have no need to take advantage of utilizing MS Teams can still have a registered SIP phone, making it possible for them to still be called from an MS Teams extension through direct routing.
Collaborate with coworkers remotely
Integration provides a powerful suite of tools to help companies create, collaborate, and celebrate their work with each other by connecting everyone through the cloud!
DID's can be assigned to MS Teams and Non-MS Teams members through the Vodia PBX using the Vodia's DID Management List.
Cost Savings! MS Teams members can enjoy cost savings when choosing their preferred SIP trunk providers on the Vodia PBX.

Auto Attendants
The Vodia Auto Attendants take care of routing incoming calls to the right destination without the need for human interaction. Callers can use extension numbers and extension names to find the right account. Pre-recorded and custom digital receptionist makes sure that callers feel welcome and can navigate by themselves. Internal users can use the Auto Attendants to navigate calls when calling from their mobile phones.
Each auto attendant can have a separate language assigned
Support for dual language regions
Programmable delay before answering calls to deal with analog equipment
Control over what caller ID shows in the display for incoming calls
Redirect calls after timeout to internal and external numbers
Redirection of calls depending on time of day or office hours
Dial by name
Up to 10 direct destinations with pre-recorded audio prompts
Music on hold included
Customer welcome greeting and up to 5 time dependent welcome greetings
Call screening
Remote employees can utilize auto attendant to start review of recorded calls, changing seat
Agent Groups
Agent groups are used to manage incoming and outgoing calls amongst a group of agents. Agent groups are typically used when
there is a large volume of calls that need to be answered, but the agent group can also be used for low volume groups.
Calls are typically managed one after another. The group can have one agent or multiple agents ringing for inbound calls. There
are several mechanisms to escalate calls, including adding more agent and redirecting calls. Agents can be logged into multiple
groups; group priorities assign available agents to higher priority groups.
Custom ringtones for agent calls vs. regular calls
Agent group priority for agents within multiple agent groups
Up to 9 recordable greetings for each agent group
Callback options
Caller options allow caller to exit the agent group queue and connect to another destination
Outbound calling campaigns can be configured within agent groups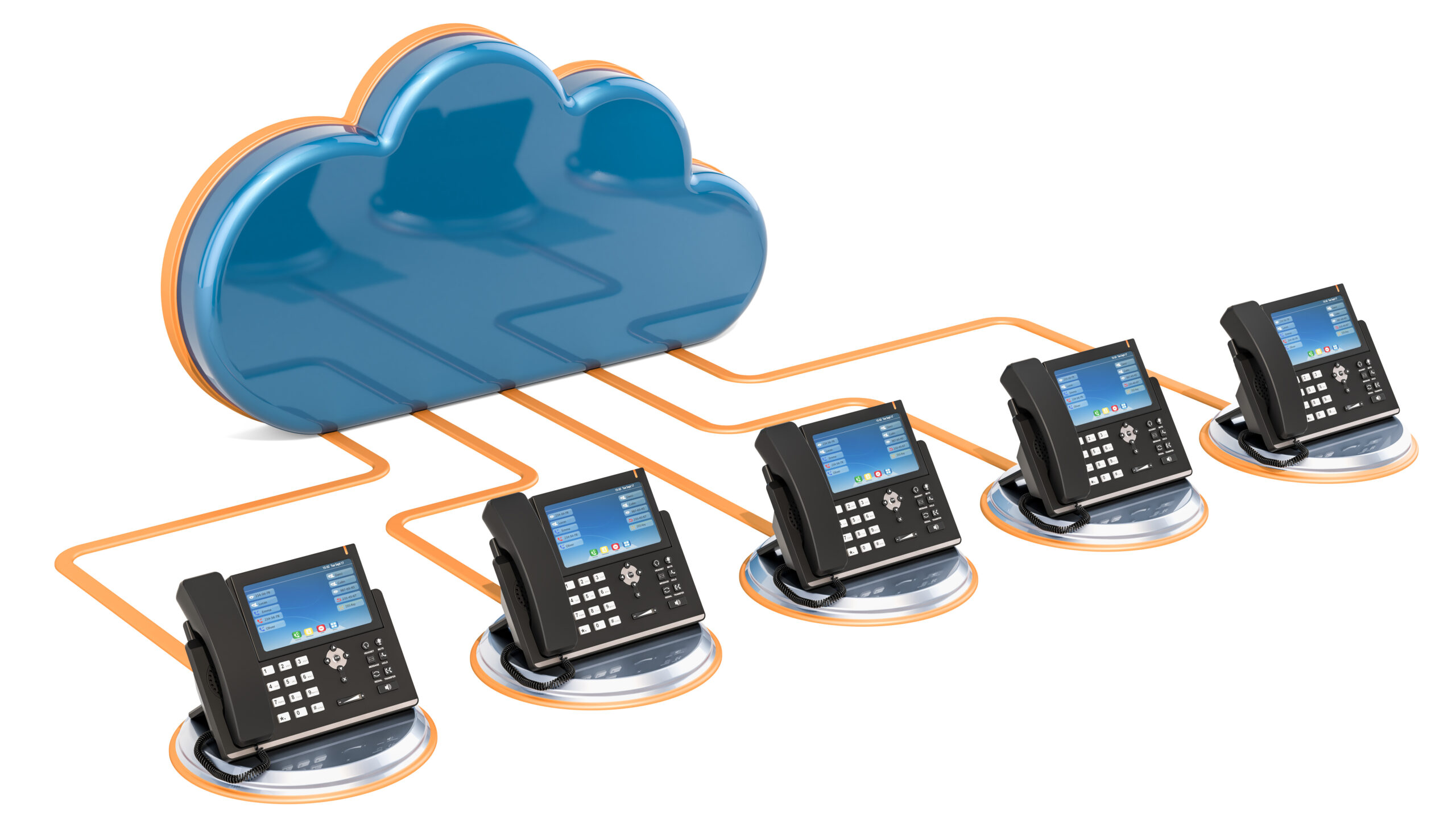 Call Recording and Call Detail Record
A call detail record (CDR) is a record of the call data produced by a telephone call which documents the details of said telephone call of other telecommunications transaction (e.g., SMS message) of which passes through a facility or device. The record will contain various data-points such as time, duration, completion status, source number, and destination number. You can think of it as something similar to someone taking a message with all the details of the actual call outside of the message itself.
SPAM detection
Call screening
Access data on how a specific phone number and/or user is utilizing the phone system
Data captured includes:

When the call started (date and time)
Call duration (in seconds, minutes, or hours)
Who called whom (source and destination phone numbers)
What kind of call was made (inbound, outbound, toll-free)

Identify calling trends
Gain insights into your business's use of phones. This allows a business to make better management and personnel decisions by analyzing patterns and trends.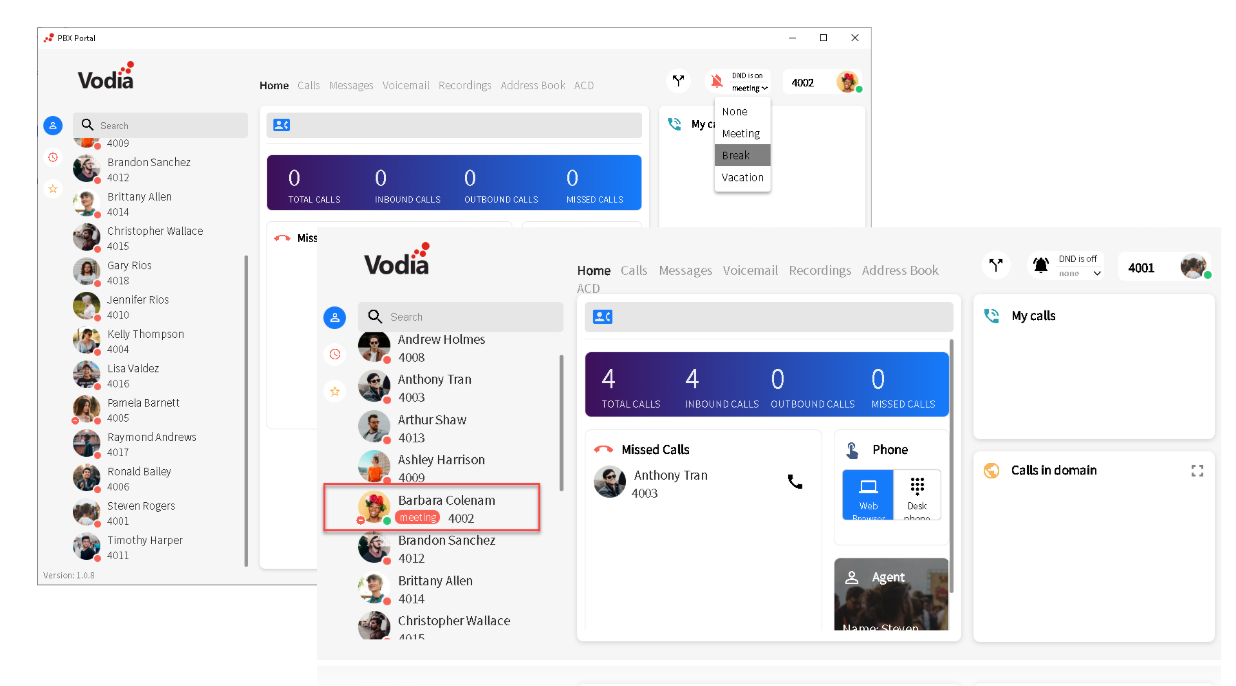 Hunt Groups
Hunt groups are used to distribute inbound calls to agents. They are typically used for simple, low call volume groups. The system calls the agents in stages, making it possible to escalate calls to more and more extensions. If the call does not get picked up, it ultimately will be sent to a programmable destination, which can be an internal resource like a mailbox or another group or to an external number. Incoming calls are processed as they come into the system and may cause call waiting on the agents devices.
Option to select most idle agent in a stage
Custom ringtone for each hunt group
Custom ring back tone for each hunt group
Choice of music on hold
Caller ID name (CNAM) can be used to show group name and customer number on phone display
Call data reporting on daily, weekly or monthly basis by email
Email for missed calls
Busy Lamp Field (BLF) indicator to let you know when a hunt group is in use
Optional hunt group inclusion in extension BLF
Automatic call recording (requires enterprise or hosted license)
Assignment of CRM account for unassigned calls
Redirection of suspected SPAM calls
Call redirection based on various options (e.g. time-based)
Settings to allow/deny permissions to monitor group
Conferencing
The Vodia Phone System contains an audio bridge for conferencing participants in. Conferences can be ad-hoc where participants just dial into a conference room, and enter a PIN code if applicable. They can also be scheduled, where each participants receives an invitation that can be added to the calendar. The phone system can also call  the participants to join the audio bridge. In call-to-conference mode, the PBX calls a list of participants up whenever someone enters the conference room. This is typically used for emergency calls where multiple people need to be given information about an important event. Conference calls can be recorded for later review.
Scheduled conferences: Allows users to plan in advance for the conference.
Ad hoc conferences: Allows users to pull together a conference at a moment's notice.
Recording options available for on-the-go and scheduled conferences
Everyone can be invited to join via various sources, along with moderator or participant access codes
Participants can either call into the conference room or be scheduled to be called when the conference begins
Various languages are offered for the conference room menu
Multiple Music on hold features
Administer conference owner rights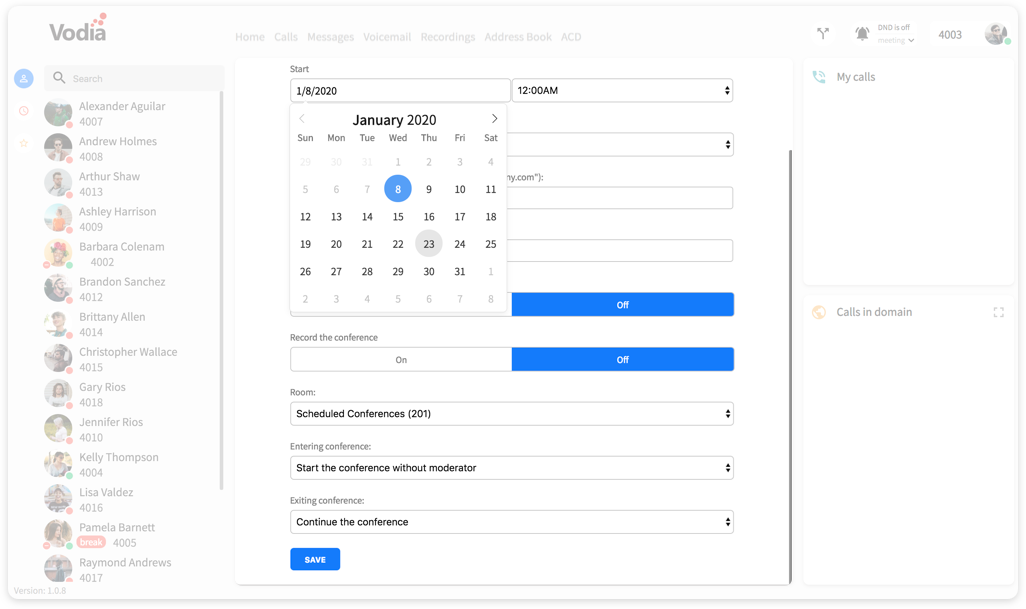 Make the right decision
Our consultants are ready to assist you with choosing the best solutions to positively impact your business.