Take Control of your Phone System. Anywhere.
3CX is an open-platform, software VoIP phone system that works with popular IP Phones and SIP trunks whether on-premise or in the cloud.
Offering a complete Unified Communications solution with advanced features, 3CX is more than just your average business telephone system. Simple, affordable and flexible, 3CX eliminates the cost and management headaches of outdated, traditional phone systems or the limitations of shared cloud PBXs.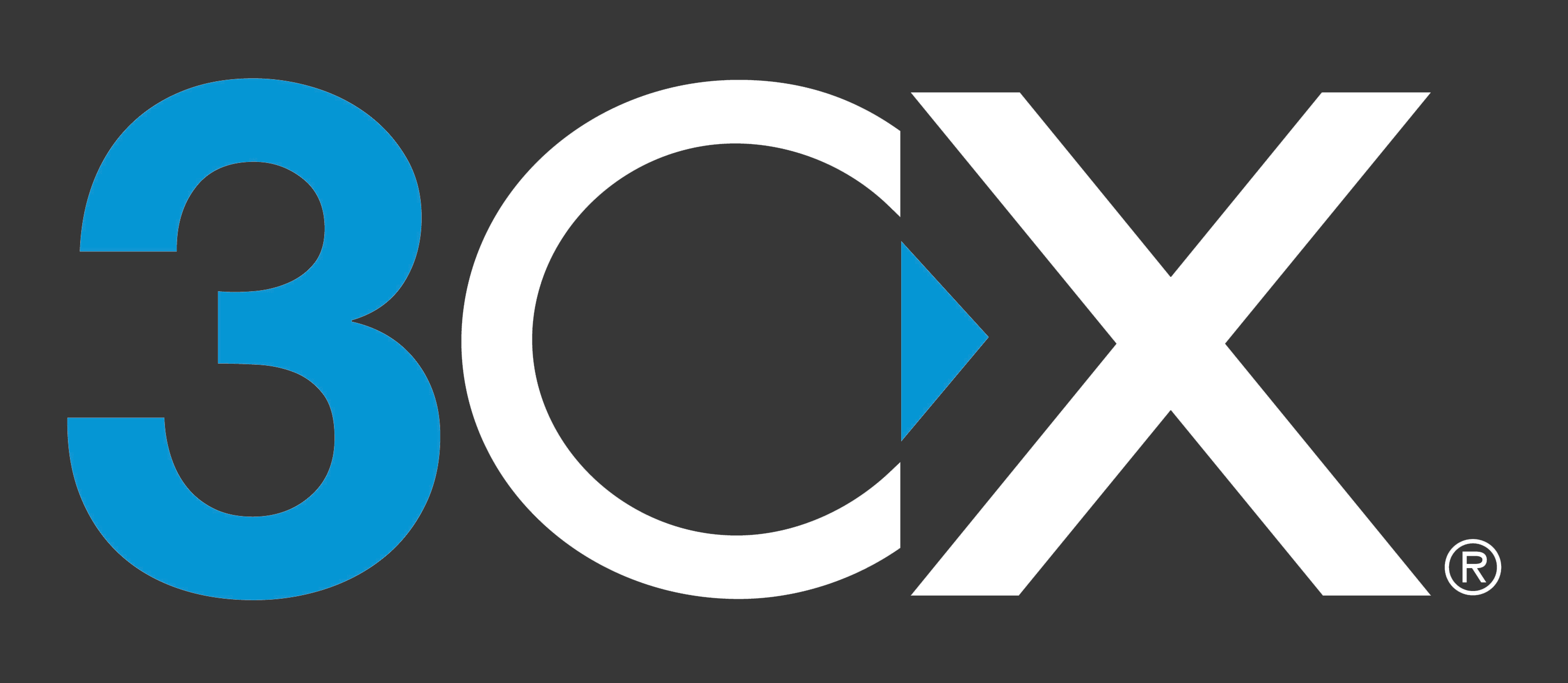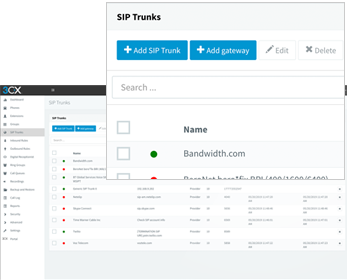 3CX's Unified Communications solution sets itself apart with its easy installation and management. Setup takes minutes; the phone system will run on-premise on an existing Windows or Linux machine and can be virtualized on Hyper-V, VMware or KVM.
You can also host your PBX system in the cloud with Google Cloud, Amazon Lightsail, Microsoft Azure and many more. With its web-based setup wizard, provisioning IP Phones, Gateways, SIP Trunks and smartphone apps takes minutes and server-side CRM integration makes using 3CX with your preferred applications easy.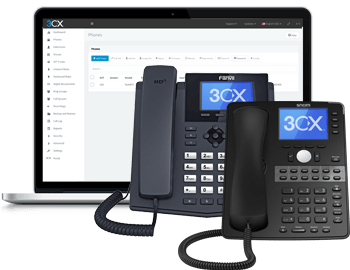 Slash your Telco and Travel Costs with IP Telephony
In addition to the many features built to boost productivity, enhance customer service and increase efficiency, 3CX's Unified Communications system will also cut your telco costs in half with IP communications and SIP trunking.
With an IP telephony system your phone bill will be slashed, and so will the cost of buying, expanding and maintaining your VoIP phone system. If you decide to host in the cloud you can self host and pay a low monthly per PBX fee rather than an expensive per extension price per month.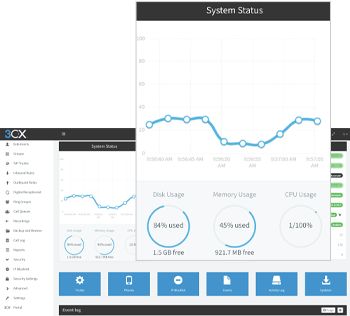 3CX. Your Unified Communications Solution Made Easy
No matter how big or small your company is, the right Unified Communications solution can take your business communications to the next level, helping to improve collaboration, boost productivity, increase mobility and enhance the customer experience. 3CX's UC functionality is inbuilt and included as standard on-premise or in the cloud, all on one user-friendly platform – no need to purchase add-ons or extras.
With 3CX's modern, intuitive VoIP softphone and smartphone apps, users have instant access to communication tools such as status, instant messaging, web conferencing, the ability to chat & talk with website visitors, fax & voicemail to email and more.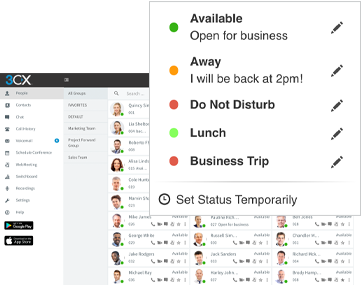 Go Mobile with Leading Android and iOS VoIP Apps
3CX includes VoIP apps for Android and iOS which allow you to take your office extension with you anywhere. With a modern and intuitive user-interface, 3CX's integrated softphone applications offer a full range of Unified Communications features including presence, chat, conferencing and more.
Answer calls to your office phone extension via your mobile device and transfer to colleagues without asking customers to call another number. Slash your company's mobile phone costs, increase productivity and make sure you never miss a call again!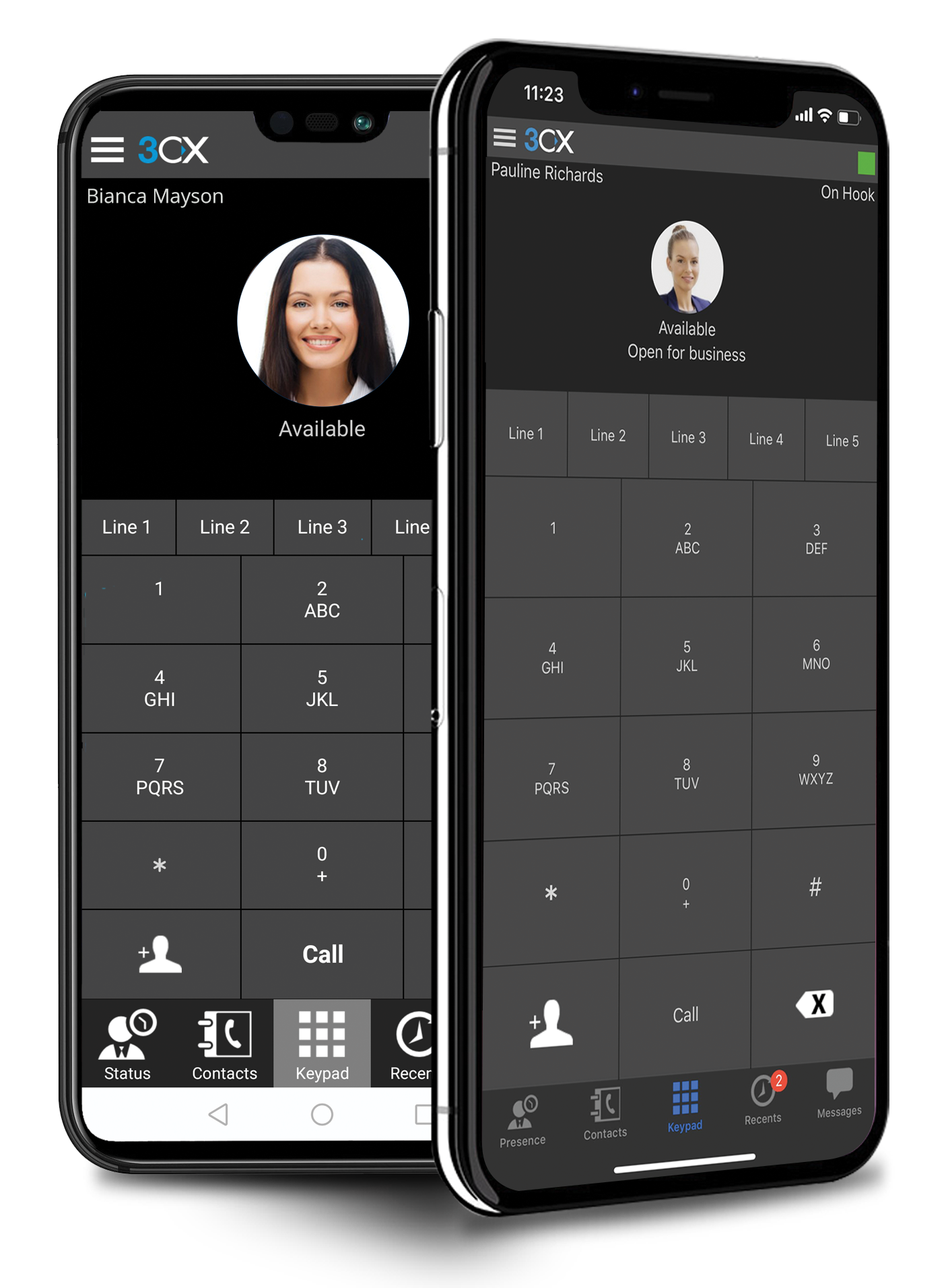 Make calls anywhere using Windows & Mac softphones
With powerful softphones for Mac and Windows, 3CX allows you to easily manage your phone calls in the office, at home or on the road using your desktop PC or laptop.
Unlike other PBXs, no additional licence fees are charged – and because the apps are fully integrated they are easy to deploy and manage for administrators, as well as easy to use for employees.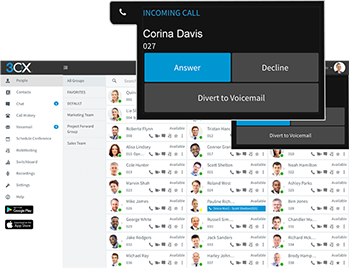 Integrated, Free Web Conferencing
Video conferencing has become an essential part of daily business communications. Whether its to catch up with a team member who is travelling or to give a sales presentation, no one can argue that its a means of communicating that has become a part of the norm. 3CX's integrated video conferencing is easy to use and enables businesses to save time and money by hosting virtual meetings, whilst enjoying the benefits of face-to-face communication.
Video conferences can be easily launched through the 3CX web client with a few mouse-clicks and can be used for a wide variety of everyday communication needs to boost productivity and efficiency.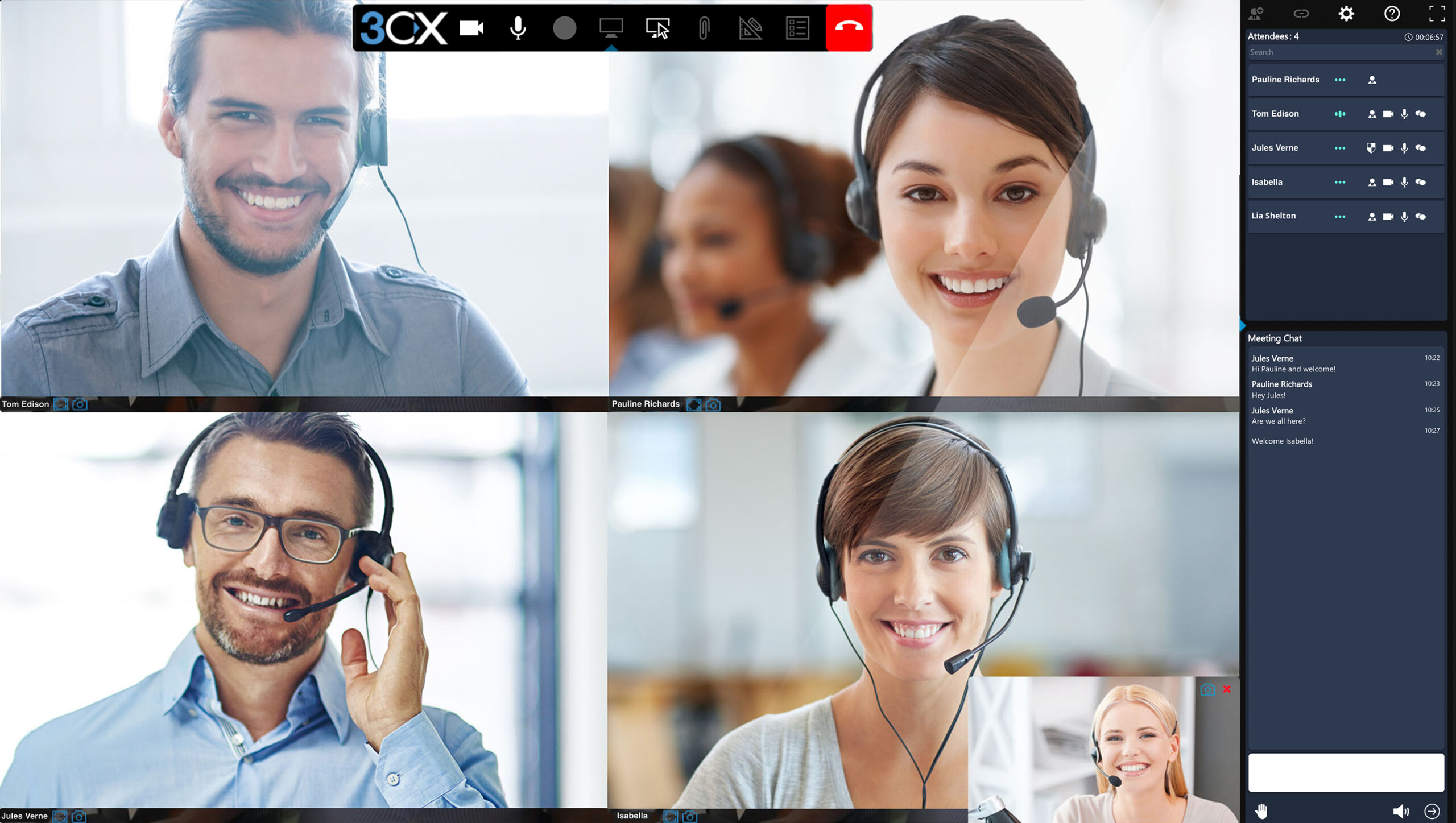 Live Chat & Talk: Connect with customers from your WordPress website
The 3CX Live Chat & Talk plugin allows your website visitors to chat and call your company in real-time. No need to call your 800 number – they can connect with a single click. Connect visitors to your call centre or sales team and watch conversion rates skyrocket! Calls are forwarded to your phone system free of charge using WebRTC technology.
Keep all your communications on one platform and save admin time, learning curve and monthly subscriptions! Your agents will love it and so will your customers! The plugin is free, the calls and chats are free – all you need is 3CX Phone System. Learn how!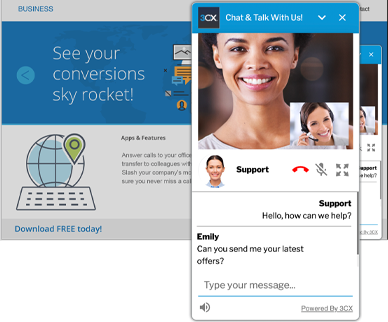 Customer Service with Contact / Call Center Software
3CX offers advanced call center features for maximum employee productivity and enhanced customer service. Make sales, offer support, resolve issues and build customer relationships using the latest in unified communications and call center technology. With the 3CX Live Chat & Talk plugin your agents can chat, video and call with your website visitors in real-time for a truly seamless customer experience.
3CX ensures that your employees can work more efficiently, track their progress and provide valuable interactions that your customers will remember.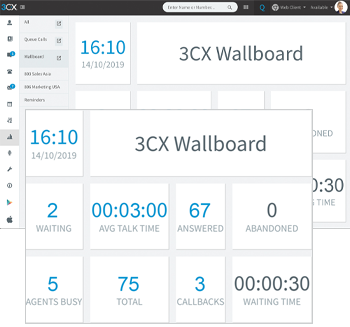 Integrate your PBX and your CRM with 3CX PRO
With 3CX you can integrate your CRM, ERP and Accounting System with your PBX and be able to launch calls with a single click. Inbound calls are automatically linked to the customer record which pops-up on the screen and all calls are logged in the CRM package.
Additionally, your agents can easily keep track of customer interactions, ensuring that records are always up to date for real-time access to contact details and information. Integrate 3CX PRO with MS Exchange, Salesforce, Microsoft Dynamics, Microsoft Outlook, Office 365, Zendesk and more! If your CRM software is not included in our list of applications you can easily integrate it yourself.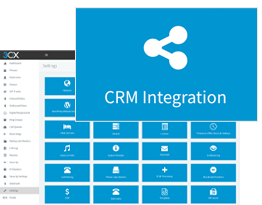 Choose the best solution for your business. No add-ons, expansion modules or additional licensing considerations. Three simple plans, one powerful communications system.
Editions include:
Jomar is a leading 3CX Partner, at the highest Titanium Partner Level. Jomar's Advanced Certified VOIP engineers are armed with the tools and knowledge required to better understand VoIP technology and 3CX Phone System. The 3CX Certification enables Jomar with the resources needed to deploy, manage and support 3CX VoIP PBX systems.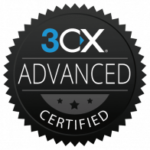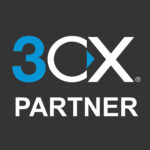 Make the right decision
Our consultants are ready to assist you with choosing the best solutions to positively impact your business.